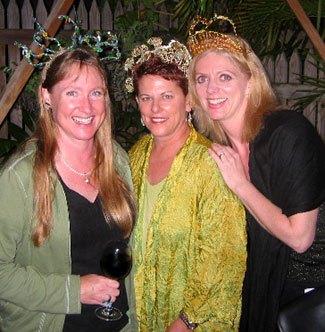 K.T. (left) with friends wearing tiaras.
Welcome to K.T.'s Key West Head Trips
K.T. (Kathy Timberlake) is a Key West, Florida and Sonoma County, California artist who transforms ordinary beach glass, pearls, beads, buttons and Swarovski crystals into beautiful works of art including tiaras, headdresses, lampshades and other functional objects. Her work appears in the Frangipani Gallery at 1102A Duval St. and at Gallery Key West at 824 Duval St. in Key West, Florida and is available for sale on line through this web site or by contacting K.T. directly.


View Tiaras

View Lamps


View Headdresses

View Jewelry

Copyright © 2005 by Kathy Timberlake. All rights reserved.