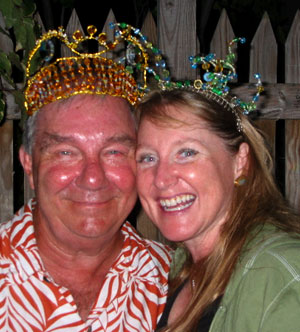 KT with good friend Steve.
Kathy Timberlake or K.T. as her friends call her, moved to Key West 23 years ago. She's been a nurse for 27 years but in the past several years has been spending time developing her more artistic side. Easily distracted by shiny objects, she started collecting beach glass and found objects then started making lampshades with the objects. Next, KT started making tiaras and headdresses for the many festive occasions that are celebrated in Key West, and now Sonoma County, California.

The majority of the beach glass and other treasures she used come from a local Key West beach that was once used as a dump over a hundred years ago. It's like an archeological site to her. She finds everything from old pottery shards to cutlery, doorknobs, buttons, slate from old roofs and ceramic doll parts. The glass ranges from old medicine and liquor bottles to old fishing buoys and ornamental glass objects.

Anything one might imagine a Victorian and turn of the last century household might have been furnished with. Some of the glass has a fused or melted quality to it. This is of course due to it having been in a fire. Some have suggested some of this glass may be from the great fire of 1886 that burned much of Key West.

It's fascinating to imagine where some of these objects come from and whom they once belonged to. K.T. likes to think that in her unusual way she's helping to preserve just a little bit of Key West history with the use of these artifacts. It just goes to prove the old adage that one man's trash is another's treasure.